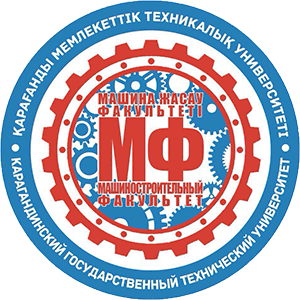 Departments of the faculty of Mechanical Engineering
Mechanical Engineering faculty takes the second place after the Mining faculty among all other faculties in our University. The number of full-time students is about 1000 students and the faculty trains students of 14 specialties to get the Bachelor's degree, 5 specialties to get the Master's degree and 2 specialties to get the PhD degree. According to the results of the National rating-2011 the specialty 5B071200 "Mechanical engineering" took the first place and the specialties 5B070900 "Metallurgy", 5B073200 "Standardization, Metrology and Certification" took the third place in the Republic of Kazakhstan.
The faculty consists of 4 departments: "Technology of Mechanical Engineering", "Metallurgy, Materials Science and Nanotechnologies", "Welding and Foundry Work" and "Foreign Languages" Department, Kazakhstan Institute of Welding and Kazakhstan-Belorus Center for Mechanical Engineering. The teaching staff consists of 90 teachers, 10 Doctors of Sciences, 2 PhDs, 32 Masters of Sciences, 7 state grant owners "The best teacher of a Higher University".
According to the results of 2010 the Mechanical Engineering faculty took the first place and the second place in the competition for the title of "The best institute" in KSTU. 2011. In 2010 two Bachelor degree specialties "Metallurgy" and "Mechanical engineering" passed the international accreditation in the agency AIOR (Russia) and were awarded the European sign of quality. In 2012 all the specialties of the faculty are going to pass the international accreditation in the agency ASIIN (Germany).
Dear school-leavers!
Dear parents!
Having many years of experience and constant development our faculty represents the combination of experience and innovations. Our students receive fundamental education in the field of mechanical engineering and metallurgy. We give the highest-quality engineering education which guarantees a job placementand rapid career growth to our graduates. We are waiting for talented, inquisitive, conscientious and promising students!