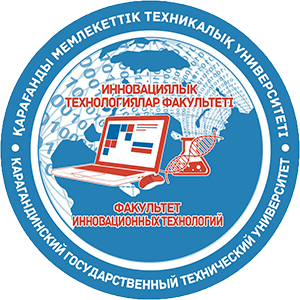 Departments of Innovation Technology faculty
WELCOME TO THE FACULTY OF INNOVATIVE TECHNOLOGIES!
The Faculty of Innovative Technologies is the fourth in the Karaganda State Technical University according to the student population. The number of students is about 1,100. The faculty carries out a set of 8 undergraduate majors and 3 graduate majors.
The faculty consists of 3 graduating departments: "Information Technologies and Security", "Information and Computing Systems", "Chemistry and Chemical Technologies" and general education department "History of Kazakhstan". The educational activity of the faculty is carried out by 93 teachers, including 4 doctors of science, 1 doctor of PHD, 40 candidates of science, 31 masters of science.
According to the results of 2011, the faculty took the 3rd place in the competition of KSTU for the title "The Best Faculty". According to the results of the rating of the IAAR, the specialty 5В070400 "Computer engineering and software" took the 2nd place, the specialty 5B072100 "Chemical technologies of organic substances" took the 2nd place, the specialty 5В073700 "Mineral enrichment" takes the 1st place on the Republican level.
Dear applicants and parents! In the Digital World, all specialties of the faculty are competitive. Our students graduate with practice-oriented specialists. A feature of our faculty is that we are preparing bachelors in the field of IT-technology, chemical and BIO-technology, as well as in the field of minerals.
Today, when digital technologies are actively introduced in all areas of our activity, the relevance of IT education is beyond doubt. KSTU is one of the flagships in this direction. Our students receive professional knowledge in such areas as: BigDate, Artificial Intelligence, Cybersecurity, industrial and environmental biotechnology, petrochemistry, coal chemistry and fine organic synthesis, development and design of the technology for the beneficiation of non-ferrous metal ores. For the purpose of high-quality practice-oriented training of students at the faculty, they actively cooperate with large IT companies Epam Systems, Wooppay, Jazsof, XNet, JSC MNPH Phytochemistry, Zh. Abishev KhMI, Absalute ecology, IOSU RK.
Graduates of FIT KSTU are the demanded qualified professionals of the business!
The doors of our faculty are always open for you, we are waiting for the most intelligent and goal-oriented!