---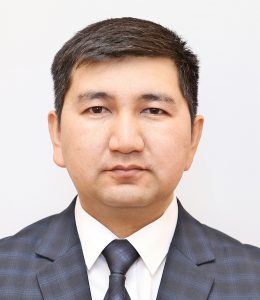 Imashev Askar Zhanbolatovich – doctor PhD Dean of the Faculty of Mining
In 2008 he graduated from the Karaganda State Technical University on specialty 190440 "Mining and Underground Construction".
Worked at the departments "Mine and underground construction" and "Development of mineral deposits".
In December 2014 Imashev A.Z.defended his doctoral dissertation for the degree of doctor PhD on a specialty 6D070700 – «Mining" at the Dissertation Council. In March 2015 order of the President of the academic degree KKSON MES №289 from 02.03.2015 was awarded the PhD doctors in the specialty 6D070700 – «Mining".
The direction of Imasheva A.Z. research is "Geotechnical investigation of the stability of the rock mass."
On the basis of research works   were published more than 40 scientific papers (including 2 articles in rating journals included in the Scopus database), received 1 certificate of state registration of rights to the object of copyright, as well as published 1 monograph and 2 textbooks.
In 2015 he attended a course "Training and retraining of managers (top management) of higher educational institutions of the Republic of Kazakhstan" in "research activities of higher education institutions" on the basis of «Nazarbayev University Graduate School of Education» and universities in Japan (Ritsumeikan University; Ritsumeikan Asia Pacific University; Kyushu University).
The winner of the State scientific grant for talented young scientists and the competition "Best young scientist – innovator KSTU 2015".
The winner of the title "The best teacher of high school in 2016".
In parallel with the main work served as deputy executive secretary of the selection committee and KSTU Scientific Secretary of the Dissertation Council of the Karaganda State Technical University for doctoral theses in the field RhD "Mining" and "Geology and Exploration of Mineral Deposits".
In February, 2017 order of the Rector KSTU was appointed Dean of the Faculty of Mines.