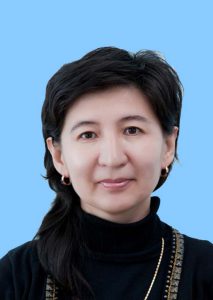 Sagatova Asem Serikovna, candidate of historical sciences, docent of the department "The history of Kazakhstan".
1990 graduated  the Kazakh National Pedagogical University named after Abai, specialty "History", qualification "Teacher of history. She works in the Karaganda State Technical University since 2010 (at the department "History of Kazakhstan in 2015). She works as the executive agent and the head of the department of "The History of Kazakhstan" since September 2016.
In 2010, she defended her Ph.D.  thesis on the topic: "The socio-political and state activities of S.Seyfulin (1894-1938)", course code 07.00.02. National history.
Research interests:  the newest history of Kazakhstan of XX century. The main problems of research – social and political life, the history of intellectuals in 20-30 years of XX century, political repression. Publications: the author of textbooks, "System and Systemic choice", "The basis of sociology" (Co-authored),"The basis of  political science " (Co-authored) , 30 scientific articles about the problems of the history of Kazakhstan and Political Science, the monograph" The socio-political and state activities of S.Seyfulin (1894-1938)", electronic textbook "The history of Kazakhstan".
Research trips to foreign archives and funds:
2016 years has been a scientific mission to identify new archival materials on the history and culture of Kazahstanayu in the State Archive of the Russian Federation (GA RF), in the Russian State Archive of Socio-Political History (RGASPI). Central Archive of FSB of Russia.
The study of identified sources and archival materials introduced into scientific circulation, complement database on the history, culture and Human Resources, will provide an opportunity to re-evaluate issues of national history. On the basis of new materials will be presented objectively study lo history and culture of Kazakhstan in the form monographs.
Awards and achievements:
1993 – Diploma of the Ministry of Education
2002 – Letter of gratitude
2009 – Diploma of Akim of Karaganda region
Mobile phone: 8702 117 30 74
E-mail: asem.sagatova@list.ru