Research plan of the department "Organization of transport, traffic and operation of transport" for 2017-2018 academic year
The plan of SRWS and NIRM of the department "Organization of transport, traffic and operation of transport" for 2017-2018 academic year
Plan for the preparation of scientific articles for publication in rating journals
Scientific work and innovative projects of the department "Organization of transport, traffic and operation of transport"
The main results of the scientific work carried out at the department for the academic year and their implementation in the training process of the training of scientific and pedagogical staff:
1 Scientific research work on the problem of higher education
Theme "Fundamentals of transport and technical means" (scientific hands – Kelisbekov AK). The main results of the work: topical issues of the development of railway transport in Kazakhstan, locomotive repair depot. Types of maintenance of locomotives. Research and development of measures to create an adaptive system of maintenance and repair of locomotives
1.2 Scientific work with students
At the department there are 5 student scientific circles under the guidance of Doctor of Technical Sciences, prof. Malybaev SK, Ph.D., prof. Dedov AN, art. teachers Galin IA, Akashev AZ According to the results of the scientific work of these circles, 3 scientific works of students took part in the republican competition of scientific works of students.
The results of scientific research obtained during the SIRS are used when reading relevant disciplines and performing course and diploma papers. At the department every year there are contests for the best course project and thesis work, done on a scientific topic. All diploma theses contain a research section, at least 25% of theses are scientific in nature.
1.3 Innovative projects and development of undergraduates and faculty of the department
According to the results of scientific works having practical significance in real conditions, candidates for obtaining author's certificates are submitted to undergraduates and faculty of the department.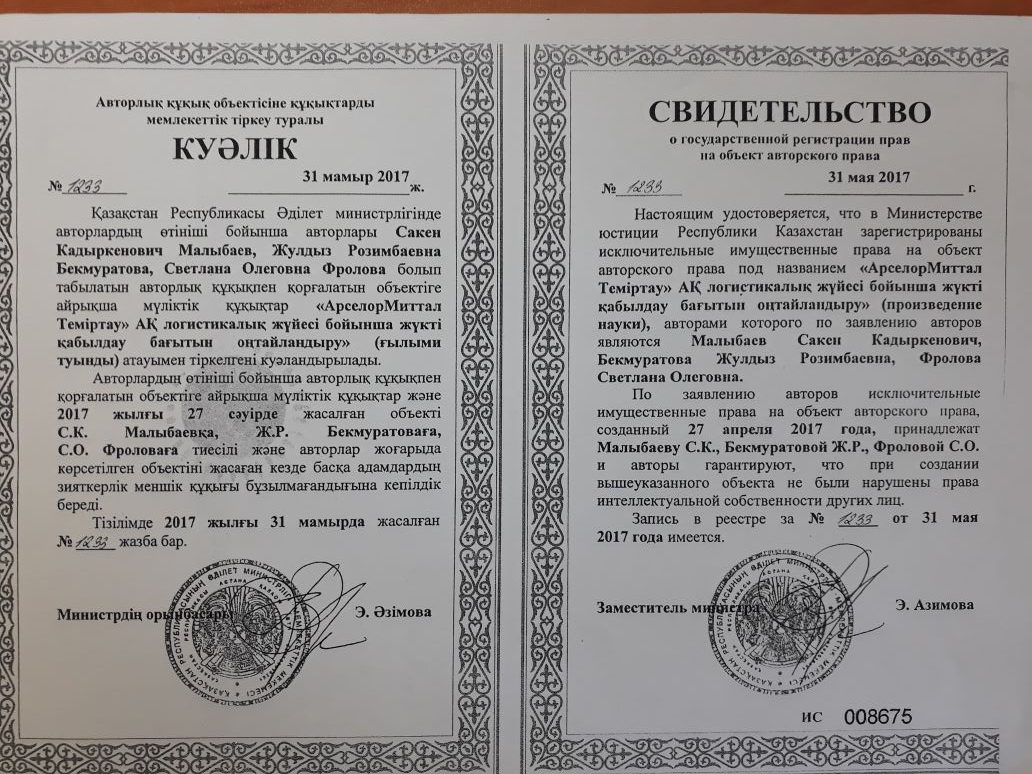 SIS-themed "Arcelor Mittal Temirtau" AҚ logisticialyk zhueisi boinsha zhakti kabildau baytyn otaylandiru "
1.4 Editions with impact factors
Theory and practice of logistics management of transport systems
Balgabekov T.K.
Stabilization of transverse vibrations of the conveyor belt at the Nurkazgan mine
Malybaev SK, Malybaev NS
Innovative energy saving technologies in industrial transport
Malybayev SK, Beskorovainy D.V.
Prospects for development of transport corridors of the Republic of Kazakhstan
Balgabekov TK, Beskorovainy DV, Kenzhekeeva AR, Isina BM, Konirova Zh.A.
On the efficiency of deflecting drums of belt conveyors at ore enterprises
Daniyarov NA, Akashev AZ, Balabayev O.T.
1.5 The index of citation of the faculty "PT"
Ph.D. Akashev Arsen Zakirovich
Ph.D. Balabayev Oyum Temirgaliyevich
Ph.D. Rozhkov Alexander Vladimirovich