"Aim to the Moon, will get to the stars!"
Active lifea position – it's not to sail with the stream, but act to change the life for the best. Human labour – is the main resource for country's development. In 1993 was founded international programme "Bolashak" with support of President of the RK for development of human resources. About 20 years students had opportunity to get qualitative education abroad in universities of international ranking and become qualified and highly sought specialists. Also to get acknowledged with young people, with lives of other people in reality.
Rector of Karaganda State Technical University A.M.Gazaliyev pays great attention to experience exchange of teaching with foreign universities, supports international programme "Bolashak" with enthusiasm and create best conditions to get qualitative knowledge. "Department of International Relations" at KSTU closely keeps relations with Bolashak's students, helps applicants in passing qualifying rounds on this programme. I personally got help from our department in passing documents and passing all tests.
In April 2009 by results of entrance tests I became an owner of international scholarship of the President of the Republic of Kazakhstan "Bolashak". Before I won scholarship I studied the first course at KSTU on specialty "Automation and control" on educational grant. I actively participated in university's life: was a monitor of the group, representative of faculty in "Students Alliance of Kazakhstan", took participation in various conferences and sport events, that helped to adapt quickly and got close with unfamiliar environment.
After the first course at KSTU I went to Singapore to study Bridging Course (preparatory courses to university). After finishing intensive study I received invitation from the University of Manchester in England on specialty "Computer Science".
I'm sure that everyone associates England with the picture of wonderful architectural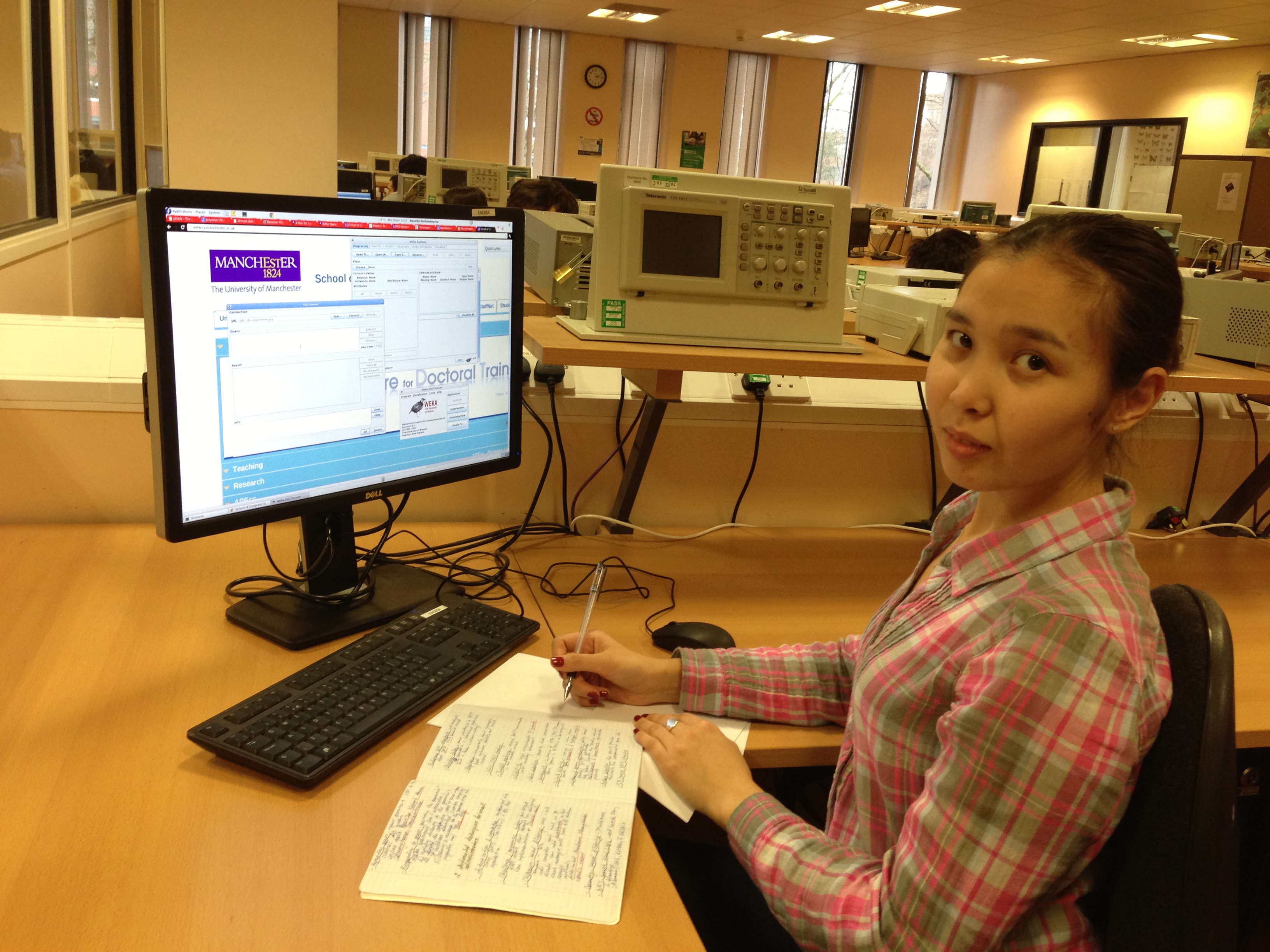 building Big Ben, Sherlock Holmes Museum, works of Shakespeare, capital of worldwide famous group "Beatles", historical castles and unique architecture. So I'm in England now and I can see all these things with own eyes. I knew that England is called "foggy Albion", but didn't expect that you can observe fog day and night. It rains often, very cloudy and humid weather. All who plan to go to Great Britain I advice to take warm coat, an umbrella and rubber boots.
The English like sport very much, especially football is very popular. Every city has own football club. Manchester is famous for clubs of world rating like Manchester United and Manchester City. Fans of these clubs are distinguished by their severity, perhaps even aggression to fans of other clubs. There is one of the largest stadiums of the world «Old Trafford» in Manchester, also one of the largest shopping centres in the UK «Trafford Centre».
I've chosen England, because it's popular with its universities of world rating such as Oxford University, Cambridge University and the University of Manchester which enter 50 best universities of the world.
Now I'm on the last course of study at the University of Manchester. Manchester is one of the biggest cities of England. There study more than 30000 students in 5 different universities. It's a multinational city with friendly people who are open for communication. Architecture of the city differs from other English cities, there is no such variety. The city is full of buildings of dark colour with small windows, as it's an industrial centre.
I'd also like to tell education in Great Britain. The difference in education system is a teaching method. Professor reads lectures for students who chose this subject. Students have a right to take all subjects they like out of department if it isn't contrary to their specialty. There are demonstrators (PhD students) and a teacher on laboratorial works. They help and assess students' works. Teachers are very friendly and patient with foreign students, always are ready to help.
As I won scholarship and left Kazakhstan, my outlook has changed, I began understand what aspects can be developed in Kazakhstan for its successful development. I see opportunities of our country clearer, as I saw how country can be developed with the help of labour and diligence. I've know that it's not easy, but quite feasible way. As a patriot of my Motherland I want to accept all good qualities of these countries and apply them for development of our Kazakhstan.
We live in the world full of possibilities. Don't be afraid to put high goals before, because no wonder that they say "Aim to the Moon, will get to the stars!" I wish to everyone to get the highest peaks.
Faithfully
Rakhymbayeva Nazerke
The University of Manchester, England.