Semester in America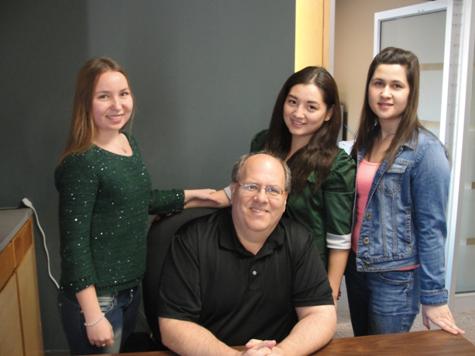 Hello everyone! I am Koshanova Nasipzhan Meirambayevna, student of SIB 11-2 group of ICTS faculty. In the period from November to March, I studied in the United States of America in Louisiana Technical University, with which KSTU cooperates for a very long time. Educational programme «Academic mobility» gave me opportunity to study in America. I knew about this programme on the first course from my teacher of English language and immediately decided to try to take part in it. I've gathered necessary documents and waited for an answer. After some time I've got a message on my e-mail that I passed that programme and when I saw it, I was very glad, shocked and very happy and did not even expect that I would pass. I went to America with two other students Ponomaryova Svetlana and Safiullina Dina, students IAS. For these 3 months we became very close, we became good friends and have become like one family.
University is situated in Louisiana, Ruston not far from Houston. Ruston is a small town with very beautiful nature and Louisiana Technical University is among the best universities of the USA.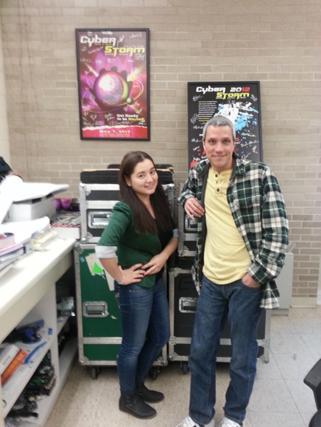 We were welcomed warmly. President Dan Ericson held introductory tour on campus on the first day. That day we received cards confirming status of LTU student and we settled in the hostel. Next day we were engaged with subject selection.
Together with Daniel Ericson, President of the International Department
Educational system at this university differs a lot from our one. Study is divided into trimesters, 3 months of study after it vacation 2 weeks and beginning of the next trimester. Disciplines are chosen by students according to their further profession which must include specialized and major subjects, also 2 or 3 additional subjects. Study is carried out distantly, all necessary information for study we could find on university's special website. As I study on Computer technologies faculty, I have chosen Introduction to CAM programming as major subject, other two subjects were Calculus 1 and Sociology.
Teacher on programming was Dr. John Gourd who is an assistant of professor. He is not only professional who knows his job well, but also a great person, very positive, with good sense of humour. WE learned how to programme on such languages as Java, XML, studied to work in MITAppInventor, BlueJ, created different programmes, games for Android. A liked his teaching methods. He conducted all lectures distantly, after each lecture he uploaded video lectures on website, in case if student missed the lecture. Homework, lab work, all were done and uploaded on the website. We could see our grades on the website too. During semester we passed 2 large exams, Midterm and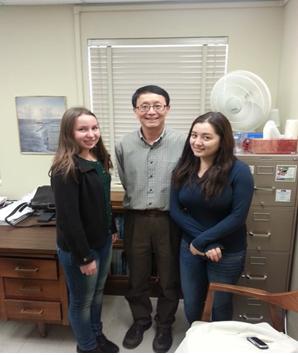 Final exam and one exam in the middle of semester after New Year vacation. At the end of trimester we were engaged with group project, teacher divided our class into 9 subgroups. We created Tone Matrix programme by all class, designed to creation and playing melodies. I liked to work in group very much as I got acquainted with new students, we exchanged our knowledge, helped each other, as a result I found out a lot of new information for myself. Mathematics teacher was Dr.Dave Meng. He was a very good teacher, who knows oats and very nice person. We studied at mathematics all connected with Math Analysis.
All homework was done on the website. We passed 3 exams and one final exam on the basis of 3 previous ones. Sociology teacher was Dr. Shawn Alan Trivette. Wonderful teacher and person, professional, very smart; his classes were held very interesting and it was difficult to expect what would be next time. Sociology was the most interesting subject as classes were held interesting and saturated, teacher often held them in game form for better assimilation of the material. At each lesson teacher held Quiz test with clicker, special remote to choose answer on test. It helped teacher to control who did home task. At each lesson we were asked to read 2 articles and on the base of that material we passed test. During the term we passed 3 exams in the form of test questions and wrote ESSAU. Most of all I liked to write essays. It was necessary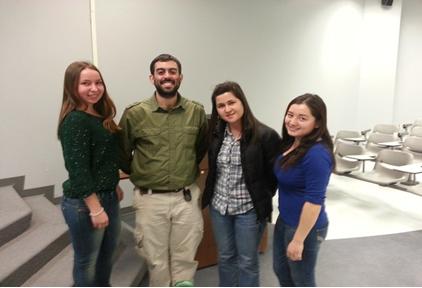 for us to choose a theme, there were 8 in general. I've chosen theme about popular music. It was very interesting to do this work on the basis of learned material. I've known many useful information on sociology, we studied American economy in part, political situation, various social issues. I was very glad that I've chosen exactly these subjects, as each of them gave me something new and interesting. In addition to the study we visited various study groups, gym.
Not far from university there was Lambright Sport Center, where dances, gym, swimming pool and many other things were situated.
We visited classes of salsa and zumba, also we went to swimming. As in university there are a lot of international students worldwide, there often held events out of study where all students gather. For example, Bonfire, International Dinner, Desert Festival, Karaoke night and many other events. We were lucky to got America during New Year and Christmas, because it's amazing to see New Year and Christmas in America, as it's a sacred holiday for them. The city was decorated brightly and it was beautiful, there was Christmas parade and many other wonderful events.
First of all, trip to America is a great experience for me, I've got new knowledge in the sphere of my specialty, improved my English, and secondly, my wish came true. I have never been to abroad, far less in America. I have seen many beautiful places, got acquainted with culture of American people, met new friends. It means a lot to me.
All this I was able to realize because of KSTU, which gave me this opportunity. I want to express gratitude to Rector of the University, international department, my teacher of English language Yudintseva Anastasiya Vladimirovna, owing to whom I knew about this programme. Good luck to all students!!!