---
Originally only English has been studied at the department, but in 1955 and 1958 study other foreign languages were introduced to the practice ​​- German, French and for students enrolled to university after a national school is the Russian language.
Timokhina L.L. was the first head of the chair, which stood at the origins of its formation. This was a woman of industrious and creative, true professional, she enjoyed respect among staff and students of the institute. With Timokhina side by side worked productively such teachers as Sluchanko P.A, Khan T.V., Zolina G.A., Dukhovnaya M.N., Valieva Kh.G. They headed a section in English, successfully led a fruitful methodological work, actively participated in educational activities.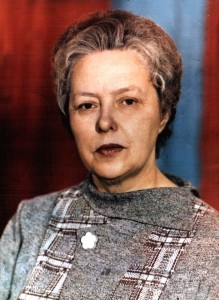 Timokhina L.L. (1953-1988)
Timokhina LL was the innovator of many things in the department. Thus, the first contact with foreign students were fastened: In 1976, L.L. Timokhina, one of the first in Kazakhstan, trained in the U.S. in Los Angeles.
Through her own initiative and business contacts with related departments of other universities, in particular, with the departments of polytechnic institutes in Saratov and Moscow, our department began to take root elements of ACS in the study of foreign languages.
At the same time section of the German language began working, which was represented by senior teachers Karavanova R.Z., Belskaya A.L., Rassokhina G.G., Sukhacheva N.A., Goltman N.S. Later a section of French formed, led by Panarin N.N. (she was a deputy dean of general engineering faculty).
Even in those years a friendly team of teachers has developed in the department. Many of them have worked in the department more than 25-30 years. For example, Sukhacheva N.A., German senior teacher, Rassokhina G.G., German  senior teacher, Valieva Kh.G., English senior teacher.
More than 40 years English senior teacher Perova L.S. worked at the Department. After graduation of Bashkir Pedagogical Institute named after Timiryazev, she was sent to work in Karaganda, where she worked at the Department of Russian and foreign languages ​​since 1974. first as a teacher, and then as senior teacher of English.
Being a modest and hardworking, intelligent and demanding, she paid great attention to improving the teaching methods of the section of English, successfully continuing the tradition of its predecessor,
Khan T.V., – a veteran of the department. Senior teacher Rassokhina G.G. worked at the Department many years.
The work of these teachers has repeatedly pointed with letters, incentive prizes, medals of "Veteran of Labor".
In 1988 associate Professor Gontsova S.A. headed the Department, which worked until 2001. During these years she has been successfully defended his doctoral dissertation on how the non-Russian students learning the Russian language. During these years, senior teacher of English Ibraeva B.M.has been prepared and then defended her candidate's thesis.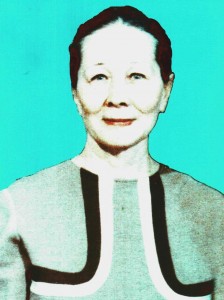 Gontsova SA (1988-2001)
Currently, the department is headed by associate Professor Ospanov B.R., a graduate of Karaganda State University named after E.A. Buketov. She works at the department since 1988, in June 2002 at the Institute of Literature and Art named after M. Auezov MES, Almaty she has defended candidates thesis. At the department employs a large team of teachers – 40 people, including three associate professors, 15 senior teachers, 13 teachers.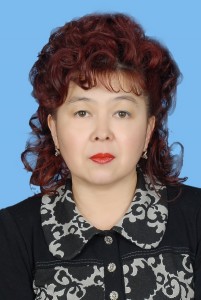 Ospanova B.R. (from 2001 to the present)
In 60th years, the department "English Club Song" was acted (the first its head – L.G. Glazer-Budnik, later it was headed by Timokhina L.L. and assistant professor of physics Shilin P.E.).
The organizers of the Club have created a special group of students – enthusiasts "Elite". They were pioneers in the study of English. They were preparing to defend diplomas in a foreign language, and such certificate was protected by N.V. Olshtynskym, then Associate Professor at the TM.
At the same time International Friendship Club "Prometheus" created by the Department was very popular.
In 1974 the Student Translation Bureau (STB) was organized in the department. With it help students read literature in the original specialty-language, wrote a small abstract messages, the most prepared students gave presentations. STB was carried out through inter-subject relationship with the special departments of the institute. The numerous diplomas were the result of this collaboration, awarded to students. In 1968, the Department participated in the National Science and Engineering Conference, where 4 reports were made available in English and German.
In 1978 the conference of the WHO took place in Karaganda. Teachers of the department of languages were hard studied medical vocabulary​​ during 1.5 months to participate in the conference as interpreters. It was the first entry of high school teachers in a large foreign audience, and while teachers and translators possessed more technical terminology, this did not prevent useful communication.
Since 1993 the Department has successfully cooperated with the International Service Learning (English Language Institute) in California. Chargeable courses of English speaking students were held on a contract basis. During 6 years of this communication more than 200 students received certificates of completion of the course. This fact is remarkable: it has allowed many students to defend diplomas in English, successfully pass examinations in the amount of candidate minimum, have experience in the practice of translation. Several students had the opportunity to study abroad.
Along with the distinguished types of uses proven traditional practices – these are annual Language Olympics. In the Olympics a large number of students are involved.
In 1995 foreign students from Turkey and Mongolia came to the Department. For successful teaching professor Gontsova S.A. and associated professor Ospanova B.R. prepared a training manual – "Russian as a foreign language".
A positive result of high methodological work of the department was that a seminar for the training staff of the University for the Exam in a foreign language in the amount of candidate minimum operates at the department. To this end applicants compiled a special training program.
The key to successful resolution of the main directions in teaching the Russian languages is a constant search for the most intense scientific and modern forms of work.
Created by teachers of the department textbooks and manuals relating to their new learning technologies, including information, – all this is evidence of active participation in the development of the Department of Technical University.
On the basis of the newly created material and technical basis for a qualitative change not only learning the Russian language, but the approach of teachers to conduct workshops and extracurricular work were changed.
Along with traditional methods of language teaching such active forms is widely adopted in practice, such as round-table discussions and mini-conference.
The department has a laboratory speech where students can hear and see the required study material on audio – and videotapes, CD and DVD. In addition, there is a computer room, media room, as well as methodical study, which stores the training materials.