---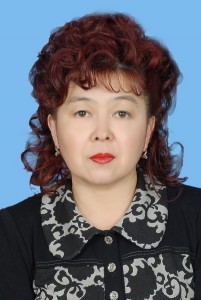 Ospanova Bikesh Revovna – Head of Russian and Foreign languages Department of the Karaganda State Technical University, candidate of philological sciences, an assistant professor.
Bikesh Revovna Ospanova, was born in 1960, Kazakh, has a higher education, in 1984 she graduated from Karaganda State University named after E.A. Buketov by "Russian language and literature" specialty. In 2006, she graduated from the Faculty of Foreign Languages ​​of the University named after E.A. Buketov by "English" specialty.
Ospanova B.R. works at KSTU from 1988. During this time she had passed great school from Russian language teacher to department head. In 2002, she successfully defended her thesis, and in 2005 received the rank of assistant professor.
Bikesh Revovna is a leading teacher of the department, has an extremely extensive experience and practical knowledge, familiar with various managerial concepts and approaches. Under her leadership, compiled sample program for Bachelor of discipline "Professional Russian language" work programs are developed for the 1st year students of all disciplines.
She has been trained in the Republican Institute for Management and scientific-pedagogical personnel of the education system of the Republic of Kazakhstan.
Highly trained teacher-trainer, creative teacher, trying to find new approaches to learning languages, speaker on contemporary issues of linguistics, lingvosinergetics at international conferences in Singapore, Italy, the Czech Republic, the USA, etc.
Some of her works include over 60 scientific publications in journals with impact factor included in the international database Tompson Reuters, Scopus, 1 monograph, she is the author of  5 teaching aids, 4 e-books, course slide lectures, multimedia presentations on the Russian and English.
Under her leadership, performed scientific research project on "Information and entropy analysis of the structure of the language of the text", funded by the MES RK  in the field of basic and applied scientific research.
Ospanova B.R. is a professor of the RussianAcademy of Natural Sciences, a member of the National Association of Teachers of English, was awarded with the Medal of Alfred Nobel "Contribution to the development of invention."
Constantly she developes a strategy for the research activities of the department, takes the necessary measures to coordinate the work of the department with academic departments of the University, the Russian and foreign educational institutions. Under the leadership of Ospanova B.R. a cooperation agreement with the International Alliance for Innovation, Technology and Education (USA)was signed with an international center of excellence for professionals in the CIS Dusseldorf (Interkulturelle Weiterbildungsgesellschaft eV, Germany), with the Tomsk State Pedagogical University, Ivanovo State Power University, through which teachers department have the opportunity to share experiences in the field of scientific research.
Ospanova B.R. creates an atmosphere in the department responsible and creative research, collaboration, emotional and moral comfort, interest in the outcome of labor. Her research and teaching activities greatly contributes to the credibility of our University.