---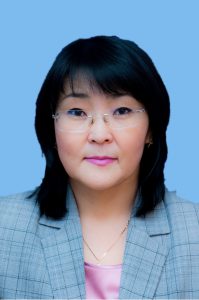 Azimbayeva Zhanat Amantayevna
Basic education – Karaganda State University, Faculty of Philology. Qualification "Philologist. Teacher of Russian language and literature".
Position: Acting Head. Department, Senior lecturer
Courses taught: Russian. Professionally-oriented Russian language.
Research interests: Theory and methods of vocational training, methods of teaching languages.
Scientific achievements: She is the author of more than 70 scientific articles, including 4 articles in journals included in the Scopus database; monograph "Focus group study of the problems of vocational activity of technical university teachers in the context of innovative changes" (2020); 1 textbook (2021); 8 teaching materials manuals, reports at conferences of international and national levels, certificates of authorship of intellectual property (SIS).
Research and development: Implementation of scientific guidance of students participating in Olympiads, competitions, forums, scientific conferences of international, republican, regional levels.
Advanced training: TSPU (2021), Karaganda (2022).
Contacts:
Address: Karaganda, Nursultan Nazarbayev Ave., 56, first building, office 508
Office phone: ext. 2046
e-mail: azimbayeva@yandex.ru