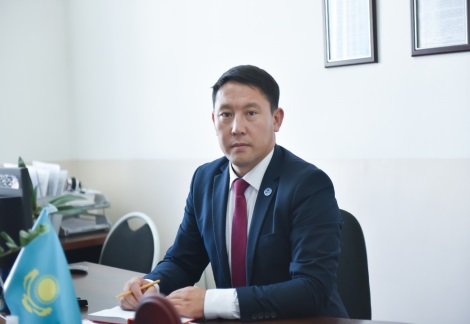 Huanggang Nurbol, associate professor, PhD
In 2009 he graduated from the Karaganda State Technical University with a degree in 5B 070700 "Mining". In 2009-2011 studied at the magistracy in the specialty 5M 070700 "Mining", from 2011 to 2014. doctoral studies in the specialty 5D 070700 "Mining". From July to September 2011 worked at KSTU as an engineer of laboratories ILI, September 01, 2011 to June 29, 2012 teacher at the Department of "Development of mineral deposits", 01.09. 2014 senior lecturer 11/11/2014 – 03/13/2016 of the department of RMPI KSTU, Appointed to the position of acting Head of the Department "Industrial Transport" KSTU 03/14/2016 – 09/30/2019, (translated) Director of the Department of "Science and Innovation" KSTU 01.10.2019 – 08.22.2021, Vice-Rector for Research KarTU 08.23.2021 – 06.06.2022, acting director of the Department of Entrepreneurship.
In 2014, he defended his doctoral dissertation for the degree of Doctor of Philosophy PhD Huanggan Nurbol on the topic: "Komir shatalaryndagy geomechanics zhagdaylardyn komir men gazdyn kenetten laktyrysyna aseri" (The influence of geomechanical factors on the occurrence of sudden outbursts of coal and gas in coal mines.) in the specialty. 6D070700 – "Mining".
A total of 100, including publications recommended by the authorized body – 12, in scientific journals included in the databases of Clarivate Analytics (Web of Science Core Collection, Clarivate Analytics) – 1, 6-Scopus, 1 – Eurasian patent, 1 – patent RK, 1 monograph. h-index Scopus = 2.
The direction of the research work of Huanggang N. are "Geotechnical studies of the stability of the rock mass". On the basis of the scientific research carried out, the applicant published a sole monograph on the topic "Influence of geomechanical conditions of coal mines on sudden outbursts of coal and gas".
The main scientific activity is connected with "Geomechanical, geotechnical studies of the stability of the rock mass". More than 100 scientific papers have been published based on the research results of Huanggang N.
Winner of the grant "The best teacher of the university of the Republic of Kazakhstan – 2019".
In 2022, he received the academic title of associate professor in the specialty 25.04.00 – Mineral development.