---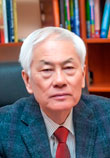 Pak Yuri Nikolayevich: Head of the Educational and Methodological Association of Higher Education Institutions of the Republic of Kazakhstan in Technical Trajectories and Specialties of Higher and Postgraduate Education at Karaganda State Technical University, Doctor of Engineering (1989), Professor (1990), KazNANS Academician (1997).
Research Interests: Quality management in education, nuclear-physical technologies in mining, geophysical exploration of minerals and their processing.
The author of more than 220 state educational standards in technical areas of higher and postgraduate education, more than 2 thousand standard curricula, including in mining specialties (1995-2016).
The author of the first monographs in Kazakhstan: "Bologna Process and Kazakhstan Realities" (2014); "Competence-based Approach in Engineering Education" (2018).
The author of more than 400 scientific publications, including more than 30 textbooks and tutorials, 18 monographs and more than 50 copyright certificates and patents for inventions.
Leading expert of the Independent Agency for Accreditation and Ranking, Laureate of the Republican Competition "The Best Teacher of the University" (2011); Laureate of the title "International Instructor of Engineering Pedagogy" (IGIP 2006); Laureate of the State Scientific Scholarship for scientists and specialists who have made an outstanding contribution to the development of science and technology (2013).