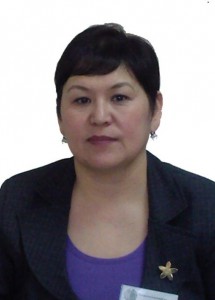 Smagulova Nurbibi Absadykovna
Director of Innovative Technologies College KTU
Master of Pedagogical Sciences
Contacts:
Аddress: Каraganda, Ave. Nursultan Nazarbayev, 56
Fourth building, room 202, 303
Telephone: 8(7212)56-46-48 (ext.1133, 1053)
E-mail: nurbibikz@mail.ru
Education: 1995-1990, Zhezkazgan Pedagogical Institute, specialty "Russian language and literature at Kazakh school", second highest education – 2002, A.O. Baykonurov ZhezU, specialty "Kazakh language and literature at schools with non-Kazakh language learning", diploma with honors, third highest education in Karaganda State Technical University, specialty "Safety and environmental protection", 2016.
Teacher of the highest category of higher level qualifications. She has more than 27 years of teaching experience.
Birth date:18.02.1966.
Previous work places in educational institutions:
From 1990 to 2007, she worked at school №24 in Zhezkazgan, 2007-2010, she worked in Zhezkazgan Industrial and Humanitarian College at ZhezU, 2010-2013, she worked in Technological College at KSTU, she headed Department of languages, in 2013. She worked in KSTU on the department of Kazakh language and literature.
Since 2015, she worked as Deputy Director of Department of Youth Policy, Chairman of the Board of curators of KSTU, supervises the work of curators of academic groups of the university.
From April 2015, she performed the duty of the Director of Innovative Technologies College.
Disciplines: "Kazakh language", "Professional Kazakh language", "Documentation in state language", "Kazakh literature", "Professional Russian language".
Data on awards and encouragements: in 2009, she was awarded the Honorary diploma "Best teacher" in the national scale. In 2010, she was awarded the Honorary diploma of KSTU rector "Best curator" of Technological College at KSTU, in 2014, she was awarded the Letter of Gratitude of KSTU rector for the active participation in the Republican scientific-practical conference "Urgent issues of education of New Kazakhstan Patriotism", she was repeatedly awarded by Certificates of honor and Letters of gratitude of KSTU rector and other organizations for many years of fruitful work.
Smagulova N.A. has published more than 20 scientific papers, including 3 textbooks. Research interests – education Informatization, implementation of multilingualism in the educational process of college, training specialist of information-technical profile.
Additional information: has numerous certificates of competence of universities, including abroad, experienced PC user, with knowledge of the common user, text-based and graphical programs.
Smagulova N.A. takes an active part in public life of the university, is engaged in educational work among students, instilling them a culture of behavior and communication with others, the main provisions of the scientific outlook at the world, discusses the technical innovations in the field of VET and major events in the public life of the Republic of Kazakhstan and the world.