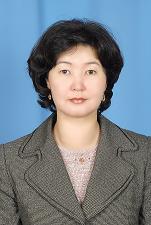 Kokkoz Mahabbat Meyramovna, Head of Department Computer Aided Design, prof., c.p.s.,was born in Karaganda in 1973. After graduating of the Karaganda Polytechnic Institute (KPTI) in 1990, with a degree – " Mechanical Engineering Technology ", was working as an engineer at the Department of Automated Information Systems, in KPTI.
In 2003 graduated Tomsk University of Control Systems and Radio Electronics with a degree "Automated control systems and information processing." Since 2003 had continued her career as a teacher of the AIS department in KSTU.
In 2005 defended aspirant dissertation by specialty 130008 " Theory and Methods of professional training " on theme: "Forming of the cognitive activity of students of distance learning based on rating evaluation of the knowledge."
The main direction of scientific activity of Kokkoz M.M. is included research of pedagogical aspects of the formation of the cognitive activity of distance learning students and training in information security.