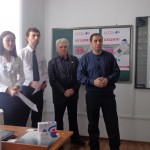 Exclusively a customized equipment for LTE 4G- it modems , tablets , WI-FI routers
This product has gained widespread popularity , ahead of its competitors
High-tech equipment offers consumers certified and manufactured specifically for the requirements of JSC ALTEL .
Subscriber equipment proposed for the network LTEznachitelno higher data rates compared to the existing equipment of the third generation of competitors
All units provide a theoretical peak data rates up to 100 Mbit / sec downlink ( base station device) 50Mbit/sek – uplink ( device-to- base station )
for example
Innovative chip Mi-Fi router is a compact wireless modem operating as WI-FI access point .
Radius of such a device on WI-FI reaches up to 10 meters line of sight .
The router allows you to connect to the Internet up to 10 users / devices. At the same time the monthly fee will be charged for only one device .
This equipment is a multi standard , it can be used in other countries when roaming