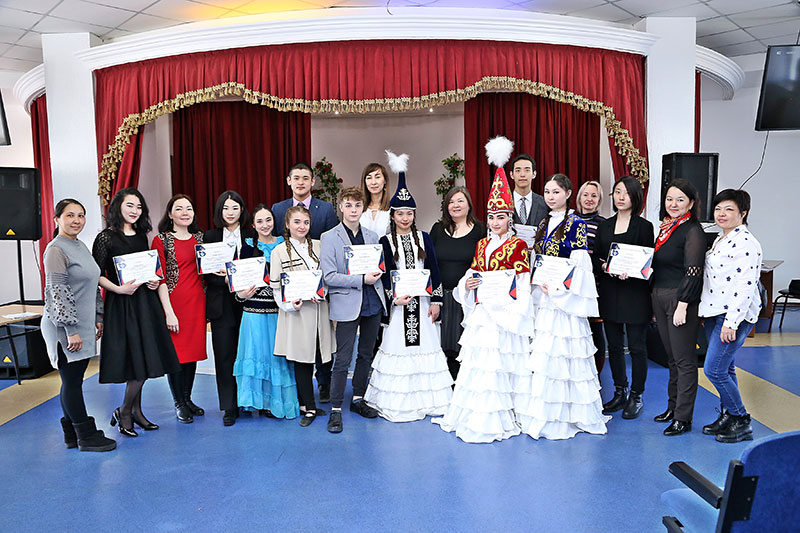 Within the framework of the implementation of the "Ruhani Zhangyru Program", subprogram "Ruhani Kazyna" (the basic direction of "Tugan Jer-Tugan El"), a socially-educational event ''Nauryz Meiramy''  was held on March 19, 2019 in the SP "Zhastar alemi"  among KSTU students of the 1st, 2d courses (80 people).
Time 15.00-16.30. At the end certificates and prizes were awarded.
Responsible for the event are the head of the "Foreign Languages" Department, Associate Professor, Ph.D. Jantasova D.D., teachers of the Department (Izotova A.S., Botayeva A. U., Atkenova A.S., Tulegenova M.K.)
Students of the 1st  and 2d courses participated in a festive concert (sang songs in Kazakh and English, performed Georgian and Kazakh dances) and national competitions (batpan koteru, burymdy shash, kol kures) in 3 languages, acted out a "Betashar" scene.
Objective: to instill interest in the study of state and foreign languages, the formation of patriotism through the study of the cultural heritage of the people, the identification and development of students' creative abilities
An indicator of completion is the preservation of the national identity of students, increase in the number of students winning creative competitions.