The rector of KSTU M.K. Ibatov as part of the Kazakh delegation participates in the first Conference of rectors of Polish technical universities (KRPUT) in conjunction with the educational foundation Perspektywy. Cooperation of Polish technical universities with Kazakh universities was the main topic of the first Forum of leaders of engineering education, which was launched on April 17 at Hilton hotel in Warsaw on the initiative of Perspektywy Education Foundation. During the Forum, the results of the rating of engineering education in 2018 Perspektywy will also be announced.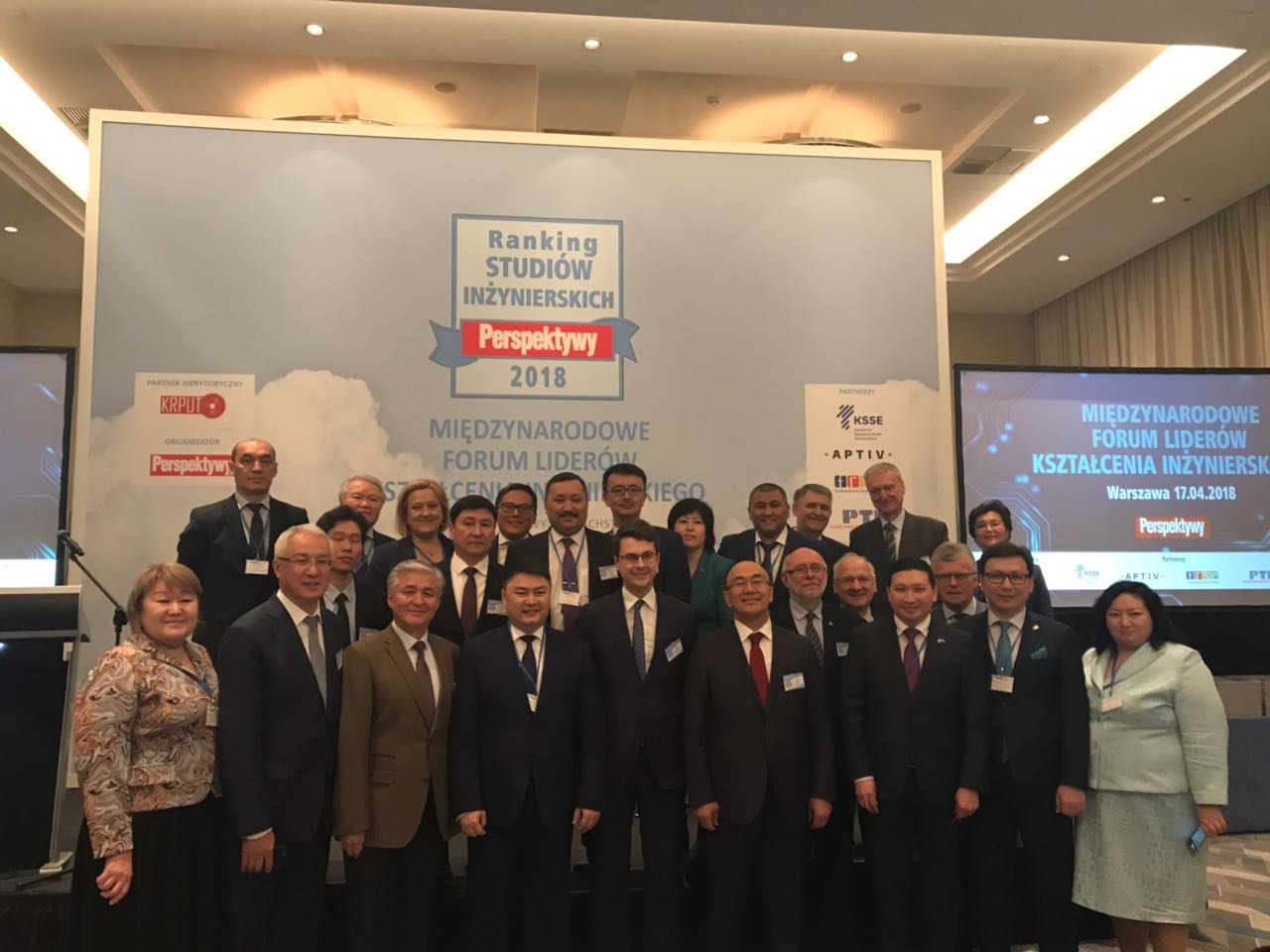 The Forum was officially opened by the Chairman of KRASP, rector of Warsaw University of technology professor Jan Schmidt, Chairman of the Board of rectors of Kazakhstan, rector of Gumilyov ENU professor E. Sydykov, President of Educational Foundation "Perspektywy" Waldemar Sivinsky.
In addition, Deputy Minister of the Ministry of science and higher education of the Republic of Poland Mr. Piotr Muller and Executive Secretary of the Ministry of education and science of the Republic of Kazakhstan Aryn Orssariyev spoke at the opening of the forum on the topic: "Requirements to education for development: STEM".
The forum is devoted to advanced technologies and new forms of cooperation between high-tech industry and universities, as Dirk Bochar, Secretary General of the European Federation of national engineering associations FEANI (Belgium) noted in his report.
– Today we talk about the issues of training engineers in the framework of industry 4.0, the importance of digital solutions. It is necessary to reduce the time for the introduction of new technologies. Speaking of the connection of production and IT, who will do it? The future is an era of engineers trained in new technologies.  Cooperation should take place in the virtual field and absolutely do not care where partners are located in Kazakhstan or Europe. The new era of engineers should know both mechanics and IT technologies, — began his speech Tomasz Hajduk, member of the Board of Siemens Polska LLP, Director for Industry.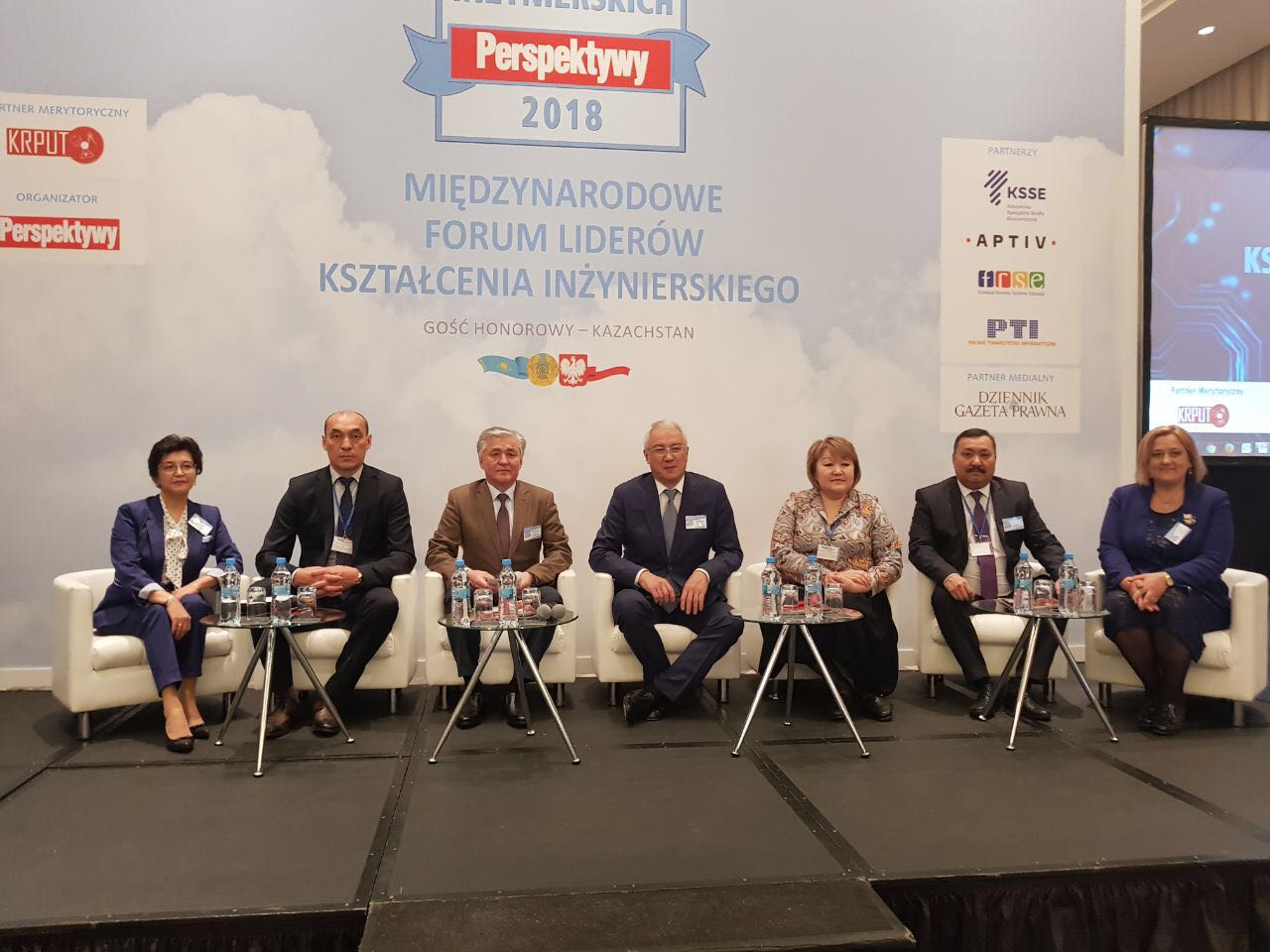 Also the report of professor O. Nagornov, First Vice-rector of the national research nuclear University MEPhI (Russia) on the topic: Engineering and technological education – closer to the industry was widely discussed.
After lunch a panel session: Staff training for high-tech industry – experience of universities of Kazakhstan and Poland was continued by professor Arkadiusz Manzic, rector of the Silesian University of technology, professor Damir Shynybekov, rector of International University of information technologies, Dr. Janusz Michalek, Chairman of the Katowice special economic zone, professor Baurzhan Erdembetov, rector of Zhubanov ARSU, Gabriel Buhala, chief engineer of ES, Website Manager Aptiv, professor M. Sarybekov, rector of M. Dulati TarSU.
At the end of the forum, a solemn presentation of the final rating of engineering education for 2018 was held.