---
On May 6, 2015 at the Department of "Russian Language and Culture" was held an event dedicated to the 70th anniversary of the Victory in the II World War and the Day of Defenders of the country. In addition to students and teachers of the department to this fest were invited foreign students from Jordan.
The event was started by the Head of the Department B.R. Ospanova. She congratulated all the students and put farward the great importance of this significant date in the life of every citizen of Kazakhstan.
The students of ИС-14-1 groups, MET-14-2, ГиК-14-1, ОП-14-2 organized celebratory concert. The songs "Alia" (Shomytova Diana), "Elim ai" (Zhakypbek Kuanish), "Katyusha" (Nurman Arailym, Baltabaeva Erden, Rum Daulethanom) were suhg; Smagulov Arman performed a scene from the poem of A.T. Tvardovsky "Vasily Terkin",  Orazaly Aybar read the poem "Otan", Hasen Dan and Sarsenov Erbol performed a poem by K. Simonov, "Burning cities". At the end all participants and guests sang together the song "Victory Day".
---
On March 19, 2015 teachers of the department organized and held event "A holiday of the world and work", Nauryz-meyramy devoted to celebration with participation of students from Jordan and students of groups IS-14-1p, MET-14-2, FEM-14-2. Students of these groups prepared presentation about holidays history, traditions, customs of the Kazakh people. Also the Kazakh national dishes and the concert of program are prepared.
The atmosphere of a holiday was warm, friendly, students communicated with pleasure among themselves. Jordanian students shared the impressions about Kazakhstan, about new friends, about study at our university.
_________________________________________________
On March 11, 2015 manager of the department Ospanova B. R., and teachers Kishenova A.Y., Tungushbayeva B. K. was organized and held the competition of compositions among pupils of 11 classes of school № 36 of the city Karaganda on theme "Only Knowledge lives the person, Only Knowledge moves with centery" devoted to the 150 anniversary of Abay Kunanbayev.
Diplomas for the best composition were marked out pupils of 11-A classes Ibrayeva Anel and Muzdybay Ayzhan.
________________________________________________
On February 20, 2015 in group MET-14-3 under the leadership of the teacher of department Baymuldina B. M. held the Round table on a subject "A youth role in implementation of the Message of the President of Kazakhstan N. A. Nazarbayev".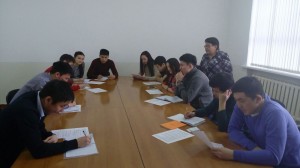 Students took active part in discussion of a subject of the Round table. The youth should realize all tasks which today sets for the people of Kazakhstan noted the students.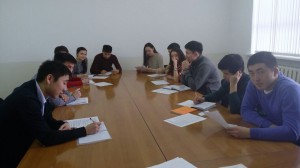 Besides, the emphasis was placed on need of the most serious relation to study, to a conscientious attitude to the duties, an active civil position. It is after all the student's youth can bring, let still small, a contribution to great fulfillments of the Kazakhstan people.
__________________________________________________
During the first semester professional orientation work took place according to the approved plan.
During this period repeatedly was visited school № 36 which was attached to the department where were led discussions with graduates. The department keeps in a continuous communication with graduates of schools and their parents.
On the basis of the order № 775 of 20.11.2014 "About carrying out professional orientation work" together with department of marketing was held 1 correspondence round of the Internet Olympic Games on Russian among pupils of the 11th classes of schools of Karaganda and the Karaganda region. 1 correspondence round took place in period from 28.12.2014 year till 15.01.2015year. 79 people were registered, 70 pupils took part. For the first round teachers of RL and C department prepared test material which consisted of 50 questions. In the 2nd round there passed 20 pupils of schools.
Date of the second round 05.02.2015 year, a place – KARGTU, 1 building, the 502nd classroom; registration of participants: 9.00 – 10.00 h.; carrying out time: 10.00 — 13.00.
_________________________________________
On 17.10.2014 teacher Kishenova A.Y.  carried out the first stage of professional orientation work at school №. 36. The contract was signed with director of school S.D. Iztuleova about professional orientation work.
On September 19, 2014 in HY "Zhastar alemy" RL and C department spent the holiday devoted to Day of the languages of RK. This action was prepared by the first-year students of NVP-14-1, GD-14-1, MET-14-2, MASh-14-3, GPR-14-1 groups. The students of 1-2 courses, teachers of department managing FL and RL and C departments the staff of the "Trinities of Languages of Sh. Kudayberdiyev" center were invited to a holiday.
On the department RL a C 4 teachers are curators of the following groups:
| | | | |
| --- | --- | --- | --- |
| | | | |
| Tungushbayeva B. K. (the sinior curator of department) – the curator of ARH-14-3 group | Kishenova A.Y. – the curator of ARH-13-2 group | Baymuldina B. M. – the curator of ARH-14-4 group | Zhuravleva L.N. – curator of DIZ-14-2 group |
The circle "Speakers art" works at RL a C department.
List of participants of a circle of Russian language "Speakers art":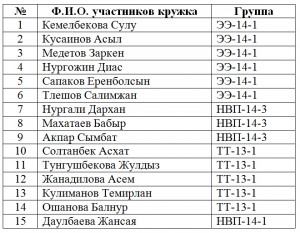 Once a month classes hold of a circle on which students make reports on various subjects concerning speakers art.
There is a tradition of students and teachers of our university to get patronage of orphanages of the our city.
On 17 of May  pupils of Regional orphanage House by N.K. Krupskaya had visited by students of group Arkh-13-4. This event was held by teachers of department of Russian language and culture in common with students.
The meeting was waited by both pupils and students: there was a wish to warm care, to communicate, meet on the sports ground, to present gifts, to lead discussions — i.e. to present pleasure, to encourage.
Children took part in sports, were glad to easy communication,  they showed the knowledge in thematic quizes. Still delivery of gifts and also sweets by it was bigger surprise for children. All were very happy with this meeting. It will be not the last: to meetings in new academic year!
On 24.05.2014 Pedagogical staff of department participated in a city community work day.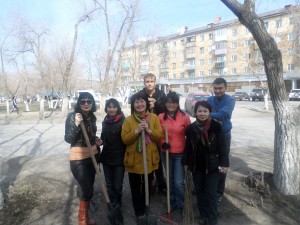 On March 18, 2014 RL and C department held festive event "Nauryz". Active part in carrying out a holiday was taken by students гр. GIK-13-1, BT-13-1, Met-13-3, TE-13-1. They prepared dancing numbers, sang songs and kyu, prepared the dramatized mini-sketch about customs of the Kazakh people, organized competitions, quizes of knowledge of customs and traditions. All participants of a holiday with great attention and pleasure watched the video about stories of emergence of a holiday the Nauryz about beautiful traditions besides, saw remarkable and unique natural corners of native Kazakhstan (the student T. Baydeldinov, gr. PSK-13-2). The holiday passed interesting, informatively and very orderly. Leaders held event interesting and at the end organized tea drinking – all this according to traditions of the Kazakh hospitality and generosity.
Teachers of RL and C department were tutors who carrying out action: Z.K.Seydakhmetova, S. M. Tazhibayeva, A.A. Taygokova.
_________________________________________________________________________________________________________________________
Senior teacher of RL and C department  Azimbeva Zh.A. would prepare the student of group AMP-13-1 Tolegen Saltanat for participation in the third online festival of friendship "I learned Russian only for that …", devoted to XX ІІ to the Olympic winter Games to Sochi (Lomonosov Moscow State University).