On  February 14 was held  interdepartmental bowling tournament for the Cup of the trade Union of students of  KSTU "Zhas Orda", which was organized by activists of the trade Union of Transport and Road faculty. 6 teams, formed from the faculties of KSTU: transport-road, mining, engineering, architectural and construction, faculty of power engineering and telecommunications, faculty of engineering economics and management, showed an exciting game of Bowling.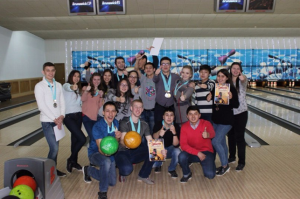 After two circles with incredible results in 101 points, breaking to pieces all his rivals,  snatched for their faculty 1st place and brought to the Treasury of  their team's 3 gold medals and became owners of a challenge Cup team of mechanical engineering faculty, and in the second place podium victory settled the team of the faculty of engineering economy and management with a score of 94 points . For the third place went incandescence the battle between the teams of mining and architectural faculties, in the end, with a margin of only one point in third place was the team of the faculty of mining.
Also during the tournament was awarded the nomination "The best player of the tournament", which was assigned to the Chairman of the trade Union of  MEF Sergei Ivanov.
The winners were awarded with medals and diplomas. The game gave great pleasure to all participants, who were able to relax, have fun, and expressed a desire to repeat such events, and in turn we congratulate the winners on their deserved victory.
Author: Kazbekova Manara