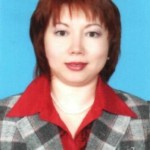 About the Head of the Department
Address: 100027, Karaganda city, Boulevard of Peace 56, building №1, room 428.
Phone 8 (7212) 56-59-32 (1152)
E-mail: akhmetodi@rambler.ru
Biography
Akhmetova Dinara was born in July 11, 1975 in Karaganda city. She graduated from Karaganda State University n.a. E.A. Buketov in 1996 by the specialty "Foreign Language" with qualification – teacher of English and French languages. In 1996 – 1998 she worked as an English teacher at the Kazakh-American English school.  From 2002 to 2004. she was a researcher at the Methods of English Language Teaching Department of KarSU n.a. E.A. Buketov (specialty 13.00.08 – Theory and Methods of Professional Education.) From 2004 to 2005 she worked as a leading expert-interpreter at the Center for Strategic Development and International Cooperation of KarSU n.a. E.A. Buketov. From 2005-2010 she was a senior lecturer at the Methods of English Language Teaching Department.
In 2010, she defended her thesis on "Creating readiness for future language teachers to work in the system of distance learning" on specialty 13.00.08 – Theory and Methods of Professional Education.
In December 2010 she worked as an associate professor at the "Russian and Foreign Languages" Department of KarSTU. She taught such disciplines as: "Foreign Language (English)", "The Practice of Oral Speech", "Technical Translation". She is one of the most experienced teachers of the department, holds her classes on a high level, and uses innovative technologies of foreign language teaching.
She was appointed as the head of the Foreign Languages Department of Karaganda State Technical University in September 2011. During this period she published over 40 scientific works, an author of 3 electronic books. An area of the scientific activity is computer linguadidactics, communication technologies application in foreign languages teaching, and professional pedagogics.
In 2009 she became a chairman of the National Association of Teachers of English Language in Kazakhstan (NATEK). She arranges conferences, scientific seminars and workshops for English teachers of Kazakhstan (www.natek.kz) in collaboration with foreign scientists and foreign organizations.
She became a chairman of state exams in English in Saran teacher's training college in 2010.
Akhmetova D.R. is a finalist in international grant programs of the American Council for International Education (JFDP'2006, Iowa, USA), Department of Education of the U.S. Embassy (CATEC'2005, 2006, 2007, Kyrgyzstan, Turkmenistan, Tajikistan), ('2009-TESOL';2009, Washington DS / Denver, USA), British Council (PSR'2008, Kathmandu, Nepal), (IATEFL'2010, Harogate, England).
She is a member of the International Consortium for Computer Didactics CALICO, International Union of American teachers of English TESOL, and the United States and the European Association of Teachers of English IATEFL, England.