Since October 2009 the university leadership and the efforts of the students in the Karaganda State Technical University has created a unique model of student self-government. The relationship between the rector and the university students are based on equal partnership, trust, understanding and responsibility. In this regard, much is changing and expanding range of activities of student unions. The union of students Karaganda State Technical University has existed since the very foundation of the university and for more than 57-year history, has made a significant contribution to its development. One of the important progress in the implementation of youth policy at the university has reorganized the structure of the students by bringing together all the youth student organizations into a single association of student youth organizations under the auspices of the trade union committee of students in a single trade union students and undergraduates Karaganda State Technical University "ZhasOrda". It should be noted that this event was carried out with the active participation of students.
The grounds for work:
The decision of the Academic Council
from September 25, 2009
Report-back election conference
October 31, 2009
MISSION: Rallying the youth in order to make student life brighter, richer, better. Innovation in the sphere of social and educational activities of students, which further helps to prepare future leaders of the country.
Regular meetings with the rector of the students
Union members are not only collaborating with each student. This is a well-coordinated team, the mechanism of organization of students – this is one big family.
Today our students through the union have a real opportunity to influence the work of the university. Chairmen of Union Bureau faculties are the Faculty Council and standing committees to verify the quality of curatorial work in student groups.A dynamic and creative work of students union KSTU "ZhasOrda" was highly appreciated by the leadership of the university and the regional committee of trade unions of Education and Science of the Karaganda region. Thus, the chairman of the union, D.A. Bayzhumin was elected a delegate to the Republican XII Congress of Trade Unions of Education and Science and made a presentation to the plenary.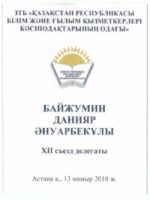 Our Head NursultanNazarbayev has repeatedly emphasized that young people – not just our future. It is our present, which will shape the future. Today we are precisely the youth who will be able to accomplish our task in front of us high.
In this regard, the specific work being done in Karaganda State Technical University is to solve one problem, education of highly competitive individuals who are ready to invest in building their life position and scale for the benefit of our sovereign Kazakhstan.