On September 18th , 2019 at 11.00 in the Youth Palace "Zhastar Alemi" a Festive event "The unity of languages is the basis of solidarity of all citizens of Kazakhstan" was held, it was dedicated to "The Day of Languages of Kazakhstan Republic" by the department of "Foreign Languages" under the leadership of the head of the Department, Associate Professor, Candidate of Pedagogical Sciences Jantasova Damira Dulatovna, responsible for the Socially Educational work of the department A.S. Isotova, as well as teachers of the department A. S. Atkenova, A.U. Botaeva, A.E. Keldibaeva
---
Report on the completion of socially-educational event "An interactive intellectual game in three rounds in three languages using the project method" among first and second year students
---
 Within the framework of the implementation of the "Ruhani Zhangyru Program", subprogram "Ruhani Kazyna", a socially-educational event ''Nauryz Meiramy'' was held on March 19, 2019 in the SP "Zhastar alemi" among KSTU students of the 1 st , 2d courses
---
REPORT of the holding an essay competition in English among students of the 1st and 2d courses
---
The English Language Olympiad «TED Talks» dedicated to the 60th anniversary of Mechanical engineering faculty
---
On April 17th 2019 socially-educational event: "An interactive intellectual game, in three rounds in three languages ​​using the project method" according to "Ruhani zhangyru" program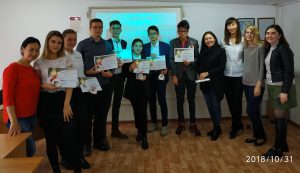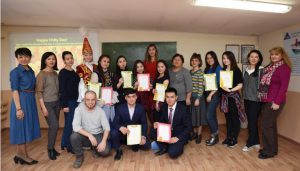 PURPOSES AND TASKS OF THE SOCIALLY-EDUCATIONAL WORK of "Foreign languages department":
The purpose:
Education of comprehensively harmonious developed personality, a competitive expert on the basis of education integration, science, innovations, production and business within universal values.
The tasks:
– formation of the citizen capable to live in new democratic society;
– formation of spiritual, moral and ethical principles of the personality, (his) her moral qualities consistent with universal values, norms and traditions of life in Kazakhstan society;
– formations of national values, respect of native and state languages, culture of Kazakh people, ethnoses and ethnic groups of Kazakhstan Republic;
– instilling of interest in studying state and foreign languages;
– formation of patriotism through studying the cultural heritage of the people;
– identification and development of creative abilities of students;
– formation of cross-cultural competence of future experts.
THE MAIN NORMATIVE DOCUMENTS FOR IMPLEMENTATION OF EDUCATIONAL ACTIVITY
The standard basis of Conceptual bases is made by the following strategic documents of Kazakhstan Republic:
Constitution of Kazakhstan Republic;
Law of the Republic of Kazakhstan "About Education";
"Ruhani Jangyru Program"
4.Annual Message of the President of Kazakhstan Republic N.A. Nazarbayev to the people of Kazakhstan;
"State program of education development of Kazakhstan Republic for 2011-2020";
The anti-corruption strategy of Kazakhstan Republic for 2015-2025;
The government resolution of Kazakhstan Republic "About the statement of the Standard comprehensive plan on strengthening the educational component of training process in all organizations of education";
The concept of education in the system of continuous formation of the Republic of Kazakhstan.
Educational activity among students founds on:
principle of development
principle of identity
principle of creativity and success
principle of support and trust
principle of responsibility
Management of educational process is performed on the basis of the following documents:
– The Plan of Socially-Educational work for academic year;
– The Plan of scientific publications within  "Ruhani Jangyru Program", for academic year;
– The concept of the multilingualism development at KSTU.
Today the country sets new major issues for itself on social modernization, the forced innovative industrialization and mutually advantageous economic integration. Having fixed achievements of Independence, Kazakhstan intends to be among the developed countries of the world in the third decade of the 21st century.
Plan of "Foreign languages department" socially-educational work for 2018-2019 academic year
Celebration of the Languages Day 
"A multilingualism as one of priorities of modern education in RK: problems and prospects".
Report of "Foreign Languages Department" on the socially-educational event "Day of Languages is​- a symbol of friendship and unity of all citizens of Kazakhstan"
Round table in English "Multicultural space is our future" with the involvement of foreign students
Report on the socially-educational event dedicated to the Day of the 1st President of the Republic of Kazakhstan
Dispute "Intercultural communication in Kazakhstan modern education. Problems and solutions "," Features of intercultural communication of students"
The report of "Foreign Languages department" on the socially-educational festive event dedicated to "Nauryz Meyramy is a holiday of spring! Traditions. Spirituality. Unity"with the involvement of foreign students
Socially-educational event "Day of Unity of the Peoples of Kazakhstan is a holiday of interethnic and interreligious harmony"