Day of the geologist !!!
Traditionally, Geology Day is celebrated in our country annually on the first Sunday of April. This professional holiday was established by the Decree of the Presidium of the Supreme Soviet of the USSR of March 31, 1966 to commemorate the achievements of Soviet geologists in the creation of the country's mineral and raw materials base.
    At the university, a solemn program dedicated to the Day of the Geologist was held on April 5, 2017. in the Youth Palace of students "Zhastar Alemi". Representatives of the staff of the KSTU and large industrial enterprises of the region attended the meeting. Talented students of the Mining Faculty pleased the guests with a bright concert program.
The guests of the event were the chief research officer of IPKON LLP, P.V. Ermolov; and about. Head of the MD "Tsentrkaznedra" B.G. Musiyeva; President of LLP "Centrgeologogosmoka" H.K. Ismailov and the workers of this organization Antonyuk and G.K. Salimova; Director of LLP "Karaganda Engineering Consortium" B.M. Kenzhin; Director of Azimut Geology LLP R.K. Mustafin, director of "Saryarka mining" LLP Abouov Amangeldy Karimovich and other prominent representatives of the industrial sector of the region.
In his solemn speech, the pro-rector of the KarSTU on scientific work, Sergei Georgievich Ozhigin, noted: "Geology is a special world and geologists are special people. We work with the bowels of the earth not only to get something from it. We are developing our plans to ensure that its reserves are not depleted and, at the same time, people could live comfortably, using its generosity. Therefore, I appeal to our students: carry the banner of graduates of the Mining Faculty of the KSTU proudly, do not drop the dignity of your native faculty, work for the glory of your country and our university. "
The priority of geology for our region is almost impossible to overestimate. That is why such events are extremely important.
March 3 at 14.00 in the auditorium of the main body 337 has passed a round table under the "Regional Meeting of the heads of organizations of the Corporate University and the enterprises included in the Industrialization Map of Karaganda region" Actual problems of training to implement GPIIR-2 projects of Karaganda region. " as members of the "Alumni Club" were invited to the conference.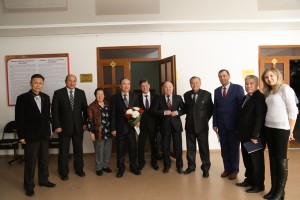 PPP Mining faculty and members of the Corporate University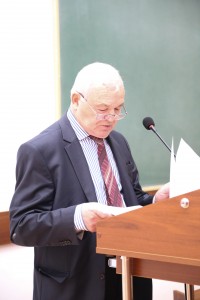 Opening of the conference. Moderator – Dedurenko AI, Chairman of the Board of Directors of JSC "Karagandanerud"
Congratulations on the anniversary of academician of NAS RK Pivnyak G.G.
Speech by the members of the Corporate University and the Alumni Club.