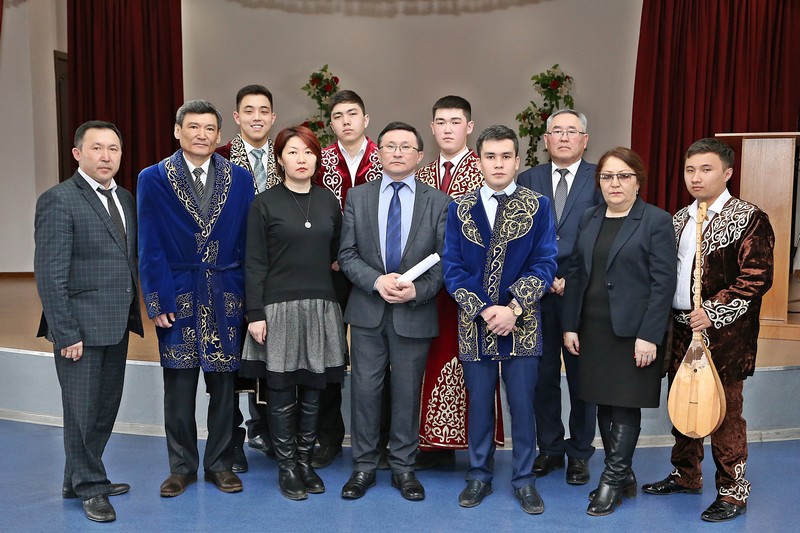 On March 29, 2019 (at 01:00 p.m.) in the Palace of Students "Zhastar Alem" of the Karaganda State Technical University on the basis of the Head of State's article "Looking to the future: modernization of public consciousness" in order to further consolidate society around the idea of ​​preserving and reviving the national culture and the uniqueness, the event "What a song without Dombyra, what a fairness withous Dombyra?" was arranged.
This event was organized by the staff of the Kazakh Language and Culture Department.
The purpose of the event is to give a deep insight into the significance of the idea of ​​reviving the national culture, shaping public opinion; to educate patriots of their Fatherland, who will master the values ​​of the new Kazakhstani patriotism.
At the opening ceremony of the cultural event, young aityskers of Karaganda State Technical University, who took prizes at the regional competition of akyns "Armysyn az Nauryz" dedicated to the anniversary date of Saken Seyfullin and Kanysh Satpayev, were awarded.
Grand Prix Winner – Ospanov Bekarys
First place – Beyssenbekov Syrym
Third place is Botbay Doskey
At the event "What a song without Dombyra, what a fairness withous Dombyra?", there were performances of gifted students and memebres of research club "Traditions of National Education", dombyra players, kyui performers and performers of national Kazakh songs, also poetry about dombyra was declaimed by Aldongarov Yerbol, Ospanov Bekarys, Bakytzhanov Rakhimzhan,  Botbay Doskey, Moldakash Shyngys, Koblandy Aslan,  Kerimkulova Altynay.
Also senior teacher of the Department "Transport Equipment and Logistics Systems" Zhanzakov Karzhaubay Galimzhanovich,   associate professor of the Department "Mine Aerology and Occupational Safety", candidate of technical sciences Makashev Baymuzha Katirayevich, and head of the "Trinity of languages" Center, candidate of philological sciences, professor Aubakirov Nurlybek Mamanovich performed from the scene.
The host Aldongarov Yerbol declaimed and abstract from the poem-panorama "Dombyra" by laureate of the XIII International Festival of Creative Youth "Shabyt" Miras Assan.