How do you do! My name is Svetlana. I'm the second-year student of Institute of Architecture and Construction and I study on specialty "Transport construction". I always wanted to go to America, to get acquainted closer with their education system and to know better mentality and lifestyle of Americans. In implementation of my dream helped my teacher of English language, International department of KSTU and of course KSTU, which gave me this opportunity. My teacher of English language, Akhmetova Dinara Rashidovna directed me to the international department and said that there was intake of students for participation in programme "Academic mobility" and gave advice to participate in it. I came to International Department and filled a special form in. After some time I got a call and was informed that passed the programme and have opportunity to study in the USA. I have never been to the USA up to this moment and I'm very glad that I have such opportunity. We were sent to Louisiana technical university, located in the state Louisiana, Roston.
Arriving in Louisiana University, we registered for subjects in the registration office. We were advised to take sociology, as said, that the teacher has own approach to teaching. Also I chose Construction engineering and Mathematics. At registration of the subjects you can select the time, days of the week and a teacher. That is, each teacher has a schedule and conducts classes in certain hours. Focusing on these graphs, we chose the most suitable for us schedule and do not coincide with the other classes.
Before the trip to America, we were worried about how we will manage to record lectures in English and have already started to prepare recorders, but after the first lecture, it turned out that all the lecture material is sent to us by mail before the occupation. All students of Louisiana University have their own University-mail, to which teachers or administration sent all the information. It is created immediately upon registration. The structure of education in America is very different from ours. For example, they have no such thing as a «session», classes are constructed in other way, home work is sent to the teacher's mail or is done on a special website. All examinations and tests are passed in the course of the semester. For example, there were three examinations on Construction engineering, the last of which is final and most important. There were four of them in Mathematics, the final exam consisted of three previous ones. We passed three exams on Sociology and wrote a small project. It was very interesting to work on this project. When the teacher gave it, his main advice was to try to get the pleasure of working on this project, because the topics were very interesting. Such as, popular music, American television, toys, interesting observations, etc. On the lessons of sociology we used clickers – mini units with numbers, with the help of which held control of work or simply polls. The motto of our teacher: «Away the manuals!». He sent us the relevant articles on email and then on the basis of these articles conducted tests and gave topics for discussion. The discussion took place with the participation of the whole audience, everyone said their views, and if something wasn't not quite right or correct, then the teacher corrected and explained how to correctly understand this or that topic.
Lecturer of Engineering asked me on what specialty I study in Karaganda state technical University and when he knew that my specialty was directly connected with the roads, invited to attend additional lessons on which he talked about special mixtures, which will be added in the concrete in the near future. Also, we visited the optional subject «Introduction in architecture» to listen to English speech more. On this subject we have been told about the famous architectural structures and features of architectures in different countries.
The international Affairs Department of Louisiana University very often organized activities, with the participation of all international students. The first of such events for us was a fire on a farm, where the Director of the International Department of Louisiana University, Mr. Daniel Erickson, introduced us to all students. I was surprised by the fact that the names of all students who have graduated from Louisiana University, were carved on special tracks along the alleys of the campus. In the middle of the campus was made a sign of Louisiana Technical University from tiles, and it is believed that if you'll step on the sign or pass on it, then you'll fail all exams. Many believe that this is not true and only superstition, but no one dares to verify this for yourself and all bypassed it by side.
The symbol of the Louisiana Technical University – is a bulldog. There is a statue of the bull-dog in one of the buildings, and it is believed that if you stroke it, then it will bring good luck. There are very many black cats on the territory of the campus. Americans believe that if a black cat crosses the road, it's good luck.
It is very good that we went together, we helped each other, and supported. The Americans and administration of the Institute, jokingly called us «family». We met a lot of international students, thus, knew more about other cultures. We met students from Africa, Saudi Arabia, Nepal, Iran, China, Thailand and many other countries.
It's very good that we were in time of Christmas. Christmas is one of the major American holidays. Everywhere were a lot of beautiful lights, all the shops, restaurants and the streets were decorated. Also everywhere was a special Christmas flower – Puancetra and everywhere was the same Christmas smell. The city in which we live was not very big, but nevertheless it was a great Christmas parade. The population of the city has been lined up along the main street and in the middle of the road was passing parade, which was attended by various cars, carts, motorcycles, and the people who sat in them, threw a lot of candy and various decorations. The best day in America, probably, it was my birthday. On such important day I was away from family and friends, but girls with whom I came, Nasipzhan and Dina, and friends, whom we met in America, very warmly congratulated me.
I learned a lot of new about the education system in America, got acquainted closer with the research base, on which active work is carried out and received very valuable experience, which, I hope, will help me in the future. I want to express big gratitude to Karaganda State Technical University, the International Department and the teachers who have provided support.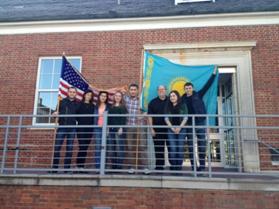 Students from Kazakhstan and Director of the International Department of LSU – Mr. Daniel Erickson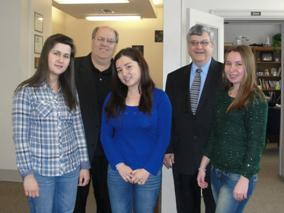 We and Director of the International Department – Mr. Daniel Erickson and the Dean – Mr. Stan Happer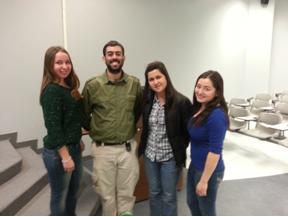 Our teacher of sociology Dr. Sean Тrivette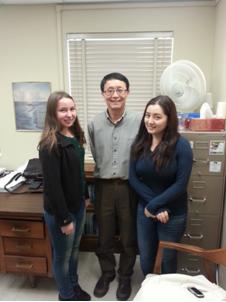 Our teacher of Mathematics – Dr. Dave Mang