Personal information:
Full name: Sarsekeyeva  Julyana  Alexandrovna
Date of birth: 20.20.1977
Nationality: Russian
Education: the highest
In 1999 she finished Karaganda State Technical University by the specialty "Geological survey ,search and scouting ". Qualification – mining engineer –geologist.
In 1999-2001 Study in a magistracy  by the specialty "geological survey ,search and scouting of mining mineral deposits".
Professional work experience :
From 2001 she still works in branch office of "TNK Kazchrome".
In 2001 Has been accepted on a post of geologist of to geological set .
In 2002 was trained on PC "Datamine" has held post of geologist-user Datamine
2004-2008 worked as the leading geologist of Tur ore mine
From 2008 appointed on a post o the leading geologist in mine group "Kazmarganec"
Her main duties in working process was :
-Conducting the primary documents of taking out works , control and store mineral resource and moving it to the production,
-calculating  and controlling resources of deposits,
-completing a  information base , carcass and block models,
– taking  part in completing  plans of mining deposits; perspective, annual and monthly plans of taking minerals deposits out.
-controlling and completing  methodical instruction of taking out process
-taking part in realization inner  audits of company.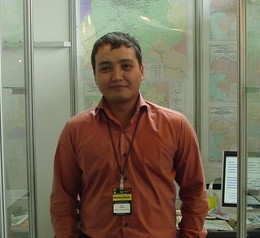 Rakishev Azamat Zholdasovich
2004-2008 Karaganda State Technical University (КарГТУ), specialty «Geology and investigation of mineral deposits». Honors degree
2009-2011 Legal Themis Academy, specialty "Law"
07.2008-11.2008 "Bapy GOK" Gornoye byuro LLP branch, local geologist
04.2009-11.2011 GU MD "Tsentrkaznedra", chief specialist
11.2011-05.2012 GRK Sat Komir LLP, main geologist
07.2012-so far COAL TRADE COMPANY LLP (APUP "GEFEST"), head of department of subsurface use

Surname, name, patronymic: Bryukhov Andrey Viktorovich
Year of birth: 1985 g
Nationality: Russian
The deputy director general on the general questions.
In 2010 graduated from the Karaganda state technical university majoring in the master of geology and investigation of mineral deposits.
Since July, 2010 it is appointed to the post the deputy director general on the general questions in Tsentrgeolanalit LLP.