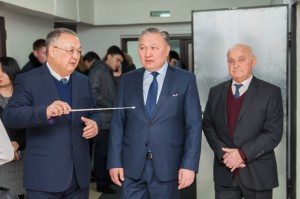 Opening of "Methane Energy Laboratory of mining and metallurgical complex" was held on November 25, 2016 in the framework of IV Republican scientific-practical online-conference "Fateful decisions of the First President of Kazakhstan N.A Nazarbayev on the formation of new Kazakhstan" inspired by the 25th anniversary of Independence of the Republic of Kazakhstan.
Akim of the region Nurmukhambet Abdibekov, associate of the President, the first deputy chairman of the Republican Public Council for Combating Corruption under the party "Nur Otan" Oralbay Abdikarimov, professor KSTU academician KazNANS Drizhd Nikolai, Academician of NAS of RoK Gazaliev Arstan Maulenovich, First Vice-Rector KSTU academician KazNANS Isagulov Aristotle Zeynullinovich, parlamentaries and other officials were attended at the ceremonial opening of the object.
It took only 2 months scientists to prepare a unique laboratory ready to work. The funds for modern equipment of leading world companies – 140 million tenge – was allocated by National Fund of Kazakhstan supporting the State program of industrial-innovative development of Kazakhstan (SPIID-2).
If previously it was happen to spend a lot of time and money to conduct the necessary studies about gas-bearing coals and deposits abroad, then now all of this could be done on-site by local experts.  "There is a lot of work in terms of research – said the veteran of the coal industry, Doctor of Technical Sciences, Professor Nikolay Drizhd. – Even 60 years ago, we were faced with the problem of mines degassing. And today, the law of most countries, leading underground coal mining, requires first to bring the gas reservoir to 10%, and only then to proceed with the mining. We also go to it".
Nikolay Aleksandrovich believes that innovative laboratory should become a center of the methane energy. As part of the project for the exploration and production of coal bed methane in the Karaganda coal basin 5 industrial and 3 exploration wells  have been drilled up to date. According to the first vice-rector, Doctor of technical sciences, professor, academician KazNANS Isagulov Aristotel, the laboratory will be the basis for the development of scientific bases and issuing recommendations on the exploration and production of coal bed methane, as well as for training graduate profile.
– The creation of this center is associated with a large regional problem  of CMM utilization. Modern unique equipment allows to carry out complex research of geological and geophysical characteristics, the study of gas-bearing coal seams, the analysis of reservoir and hydro-geological characteristics of the reservoir for effective scientific support of exploration programs and coalbed methane production.
– The laboratory is part of a strategic program for the study of methane of coal deposits and to determine the long-term prospects for the exploration and commercial production of coal bed methane in the Karaganda coal basin, – said Nurmukhambet Abdibekov.