About 30 deans, vice deans and department heads of Kazakhstani universities visited the KAIST College of Business, the oldest business school in Korea, to learn managerial techniques and study the role it played in Korea's rapid economic growth over the past 50 years.
On Wednesday afternoon, the 27 Kazakhstani faculty members were listening attentively to a lecture by Kim Young-gul, the associate dean of external affairs at the KAIST College of Business. For once, the professors were even more enthusiastic and curious than their students.
The Kazakhstani professors came to Korea on a five-day program called the Professional Development Program for Higher Education Leaders of Kazakhstan 2016.
The aim of the program is to enable Kazakhstani universities, where communist bureaucracy still exists, to become more autonomous and modern, said David Lock, the international adviser to the Leadership Foundation for Higher Education, who helped plan the visit, in an interview with the Korea JoongAng Daily on Wednesday.
It's been three years since the program began, and previous groups of Kazakhstani professors traveled to the United States, the United Kingdom, Singapore and Japan. This year's group will be visiting Korea, Hong Kong, Germany and the Netherlands.
"The common factor is that their universities have successful systems, which will give the Kazakhstani colleagues information on how to work and form successful ideas that they can then take back to Kazakhstan,'' Lock said.
"Korea has made rapid progress over the last 50 years, and KAIST University has risen to take a national lead in enabling that progress."
Many of the professors also expressed favor toward Korea in general.
"Kazakhstan became independent in 1991, and Korea was one of the countries to sign contracts and memoranda," said Almasbek Absadykov, the vice rector for academic affairs and educational work at Kostanay State University in Kazakhstan. "And there is a diaspora of Korean people in Kazakhstan, so we know their culture and food, as well."
"I admire the school's spirit of entrepreneurship," said Bakhytzhan Akhmetov, the director of the Institute of Information and Telecommunication Technologies at Kazakh National Technical Research University. "Second, the high qualification of the faculty; third, the intellects of the students; and fourth, the autonomy of the school. In Kazakhstan, the decisions are made top-down by top management level."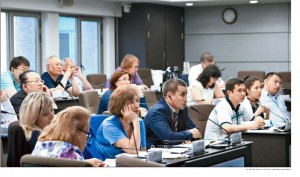 The deans, vice deans and heads of departments from Kazakhstan, who visited the KAIST College of Business under the Professional Development Program for Higher Education Leaders of Kazakhstan 2016, listen to a lecture at the business school in Dongdaemun District, central Seoul.
When asked what makes the KAIST business school different from others in Korea as well as around the world, Kim said, without any hesitation, "the school's frontier spirit." "It's only been 20 years since the school was established, which is a very short period of time compared to U.S. business schools," he said. "But we have developed curricula that no business school has imagined teaching, like the Social Entrepreneurship MBA and Green Growth MBA."
BY SHIN SOO-YEON