With 21.12.15g. on 30.12.15g. within the international cooperation the manager of "Public and Municipal Administration" department of the Kuzbass state technical university (Kemerovo, the Russian Federation), d.s.s. has been invited., professor Zaruba Natalya Andreevna who has read a course of lectures and has held the training seminar according to the "Methods of Adoption of Administrative Decisions" program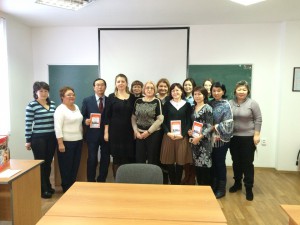 With 18.12.14g. by 27.12.14g. international cooperation was invited Head of the Department "Theory of Statistics" Moscow State University of Economics, Statistics, and Informatics, Doctor of Economics, professor Sadovnikov Natalya Alekseevna, who read lectures and held a training seminar on the subjects "Statistics", "Business Statistics and forecasting "," Forecasting financial and economic practices "," Banking statistics "and" time Series Analysis and Forecasting "
C 27.11.14g. by 10.12.14g. international cooperation was invited Vice-President of the International Eurasian Academy of Academy of Natural Sciences, State Advisor of the Russian Federation, Professor Kipras Mažeika who read lectures and held a seminar on disciplines "Psychology of Management", "Information Security for the benefit of business", "Arsenal political manipulation : installation methods and techniques "and" modern style of language and behavior of business people in management and business "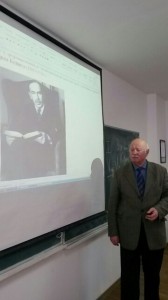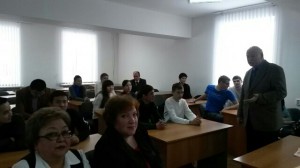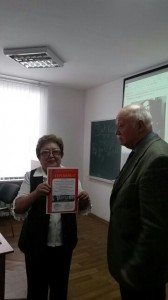 C 24.11.14g. by 7.12.14g. international cooperation has been invited professor, doctor of economic sciences, head of the department "Economics of Natural Resources 'National Research Tomsk Polytechnic University Boyarko Gregory Yu, who read lectures and held a seminar on subjects' Forum Actions proctitis" and "Modern problems of science"
On Enterprise Management chair during the period with 27.04.2013г on 15.05.2013г classes by the doctor of PhD of university of Simon Fraser were given
Ramazan Genchay
Ramazan Genchay for teachers of Institute of Economy, chairs "Enterprise Management", "Production Organization", "Enterprise Economy", students and undergraduates gave a course of lectures on discipline "The world financial market". Within the held seminar listeners had opportunity at the solution of situations to receive skills of calculation of financial risks.
With 27.10.11-п о28.10.11гг. within the international cooperation A.Beyfert (Hochschule Wismar, University of Technology, Business and Design) read a course of lectures and held training seminar "Strategic management". As a result listeners studied features of strategic management in Germany, with application of computer technologies skills of formation of business strategy of the enterprise are received.
On NIR within the international cooperation with 5.12.11г. on 12.12.11г. the course of lectures with the director of Open Policy Institute Cand.Econ.Sci., professor M. V. Dobvenko (Ukraine, Kiev) is given.
Within the bilateral contract on the international activity business trip in TNEU with 17.11.11г is planned. – till 28.11.2011 on Enterprise Management chair with the associate professor, Cand.Econ.Sci. of N.B.Davletbayeva, professor Y.I.Osik.