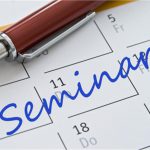 In order to improve the pedagogical skills of the University faculty, the Center for Engineering Pedagogics KSTU announces the holding of:
A training seminar on engineering pedagogy from May 15 to June 24, 2017.
Faculty who have not previously passed the training are invited to the seminar.
Application for the Training Seminar must be submitted in Form 1
In the enclosed copies of orders No. 430 of 10.06.2015, No. 22 of 14.01.2016, No. 480 of 13.06.2016 "The results of the Training Seminar on Engineering Pedagogy" are indicated the names of faculty who have already passed these courses. Please send new lists taking into account the trained contingent.
The order №22_14_01_2016
The order №430_10_06_2015
The order №480_ 13_06_2016
One-day seminar on the theme "Entrepreneurship in Education" on May 10, 2017 at 16.00 (1 building, room 536).
Deans, heads of departments, heads of structural divisions (Form 2) are invited to the seminar.
 The CERTIFICATE is issued on the Base of the results of the seminars.
The applications should be submitted in hard copy to Smirnova GM, Director of CIP, 1 building, 525 aud, tel. 56-52-33, ext. 1112, 1117, certified by the head of the department and in electronic form to e-mail: cep.kstu@mail.ru up to April 20, 2017.