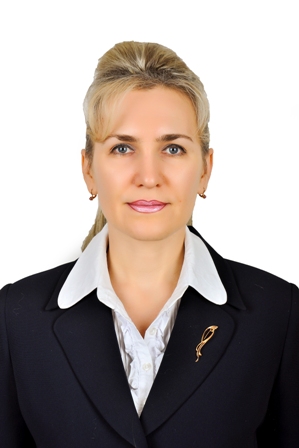 In 1990 graduated from Karaganda pedagogic Institute with a degree in "Informatics, mathematics and computing".
In 2002 defended dissertation on competition for a scientific degree of the Candidate of Pedagogical Sciences  at E.A.Buketov Karaganda state University  on theme «Integral method of knowledge assessment as a tool to improve the quality of education» on speciality 13.00.01 – "General pedagogics, history of pedagogics and education, ethnopedagogics".
In 2005 received the academic title of Associate Professor of the specialty «Pedagogics».
2008 – 2011 – studied PhD program at Gumilyov Eurasian National University on direction 130000- Pedagogical sciences.
In 2010 defended dissertation on competition for a scientific degree of the Doctor of Pedagogical Sciences on a speciality 13.00.08 – Theory and methods of professional education on the topic «Theory and practice of professional study in the field of information technologies» at Gumilyov ENU.
In 2011 defended a dissertation for the degree of Doctor of Philosophy PhD on a specialty «Education» at Abay Kazakh national pedagogical University on theme «Scientific bases of training professionals in the field of information technologies (on the example of the specialty 050703-Information systems) ».
Experience of work at University is 22 years.
Author of over 100 scientific works, including 2 monographs, 5 educational manuals, 4 computer programs, certificate on registration of object of intellectual property, scientific articles, participation in conferences of different levels.
Area of scientific interests – education informatization, implementation of automated training tools in educational process of the University, preparation of information profile specialist.